Member Spotlight | Artisans of Fashion
Meet Artisans of Fashion (AOF), a social enterprise founded by Sydney based Creative, Caroline Poiner with the aim to promote cultural sustainability, authenticity and social change for village artisans in India. AOF has a specific focus on empowering women & marginalised communities, working with them to preserve traditional craft skills and connect these techniques to designers and retail brands in the international market. AOF have worked with a number of Australian designers since launching in 2011 including; Romance Was Born, Roopa Pemmaraju, Akira, Aurelio Costarella, Easton Pearson, Manning Cartell, Michelle Jank, Nicola Finetti and more....
In 2011 Artisans of Fashion was launched with a mission to promote traditional artisans in the handloom sector through the influential fashion industry, which is one of the key sectors that has the potential to have a profound impact on the lives of some of the poorest people in the world.
Along with exploitative business practice, the clothing and textile industry is also one of the greatest polluters, second to the oil industry. It is estimated that clothing and textiles accounted for approximately a ton of the total 19.8 tons of carbon emissions produced in the US in 2006 and is rapidly increasing with high turn over fashion and the use of synthetic fibres, creating billions of tons of toxic landfill every year (Rupp 2008).
In contrast, handloom cloth is created without the use of power or emissions resulting in a minimal carbon footprint. For every weaver employed there is a subsequent flow on effect in the employment of support artisans such as spinners, dyers and finishers, who carry out other processes which can be up to nine times the human labour than what is required for machine made textiles.
Artisans of Fashion works with hundreds of weavers and artisans creating access for designers and the fashion industry to an extensive range of hand-loomed textiles as well as traditional embroidery, dyeing and printing techniques; bringing the traditional craft of the artisans to the world of international design.
We source our beautiful textiles from regions all over India. India has one of the richest traditions and variety of textile techniques and crafts. Every region has a unique style of weaving using traditional designs and motifs, each with its own distinctive character.
Working with natural fibres such as wild silk and organically grown cotton, as well as natural and low impact dyes not only minimises our impact on the environment but also promotes safe working conditions for the farmers and artisans.
By promoting handloom, natural fibres and the traditional artisan techniques we strive to facilitate ethical work practices and positive change, reducing the environmental and social impact of the fast fashion industry.
All textiles are produced to order and lead time relative to the artisan community and technique.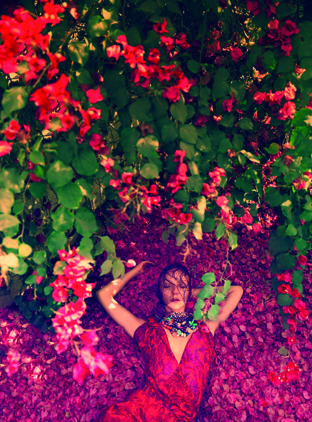 Want to Find Out More?
Or get in touch with the Artisans of Fashion team via:
info@artisansoffashion.com
Images Courtesy of Photographers: Georges Antoni Ghorayeb, Robyn Beeche, Laurin Askill - Yatra and James Pipino.
Reference: Rupp, J. 2008, Ecology and Economy in Textile Finishing, Textile World, Accessed 2 December 2016, <ethical.org.au>