The State of Skills in the Apparel Industry 2018 Report
Alvanon's global survey highlights an unprecedented skills crisis in the fashion industry, with 62% of respondents struggling to fill skilled roles. The report data reveals a 'war for talent' across the supply chain, with big fashion retailers, brands, manufacturers and vendors, facing a shortage of workers with key, specialised skills… Do you agree?
Global fashion innovation company Alvanon has partnered with 13 leading apparel organisations, including the AFC, to survey professionals throughout the fashion industry on the skills gaps, learning and talent development needs within the apparel sector.
The results are revealed in 'The State of Skills in the Apparel Industry 2018' special report, that represents the views of 642 executives, HR leaders, industry practitioners and employees across the international supply chain.
According to the survey report, one of the biggest issues facing brands and vendors is hiring people with the right skills, with 62% of respondents saying they are struggling to fill certain positions. The data further shows that respondents are largely unhappy with the training being provided, and 30% are actively dissatisfied.
Some businesses are likening hiring to a battle, with Sarah McConnell Hays, sourcing manager at childrenswear retailer Carter's saying: "We are in a war for talent." The report states that the imperatives for business now include figuring out how to engage employees and provide professional development, or risk losing them.
"As the apparel industry begins to recognise and implement digitalisation as a way of delivering on speed, customisation and transparency, it is revealing gaps in the specialised skills set of its workforce… Our survey findings conclude that failure to respond to skill shortages will result in the generalisation of poor market practices and adversely impact business performance across the supply chain."

"Improving the apparel industry by upping its skills is, ultimately, a collective responsibility shared between all players in the value chain and the individual professionals themselves. This survey clearly shows where we need to start and that we need to start immediately."

Janice Wang, CEO of Alvanon
The survey is part of Alvanon's ongoing efforts to address the training and development needs of the apparel industry worldwide. This report aims to highlight labour force challenges faced by the industry and prompt readers to question their own company's state of affairs in terms of training and strategy or lack of it. The 642 respondents comprised one-third of workers from North America, one-third Asia Pacific, one-fourth Central & South America, the rest from Europe and others.
_
SOME KEY STATS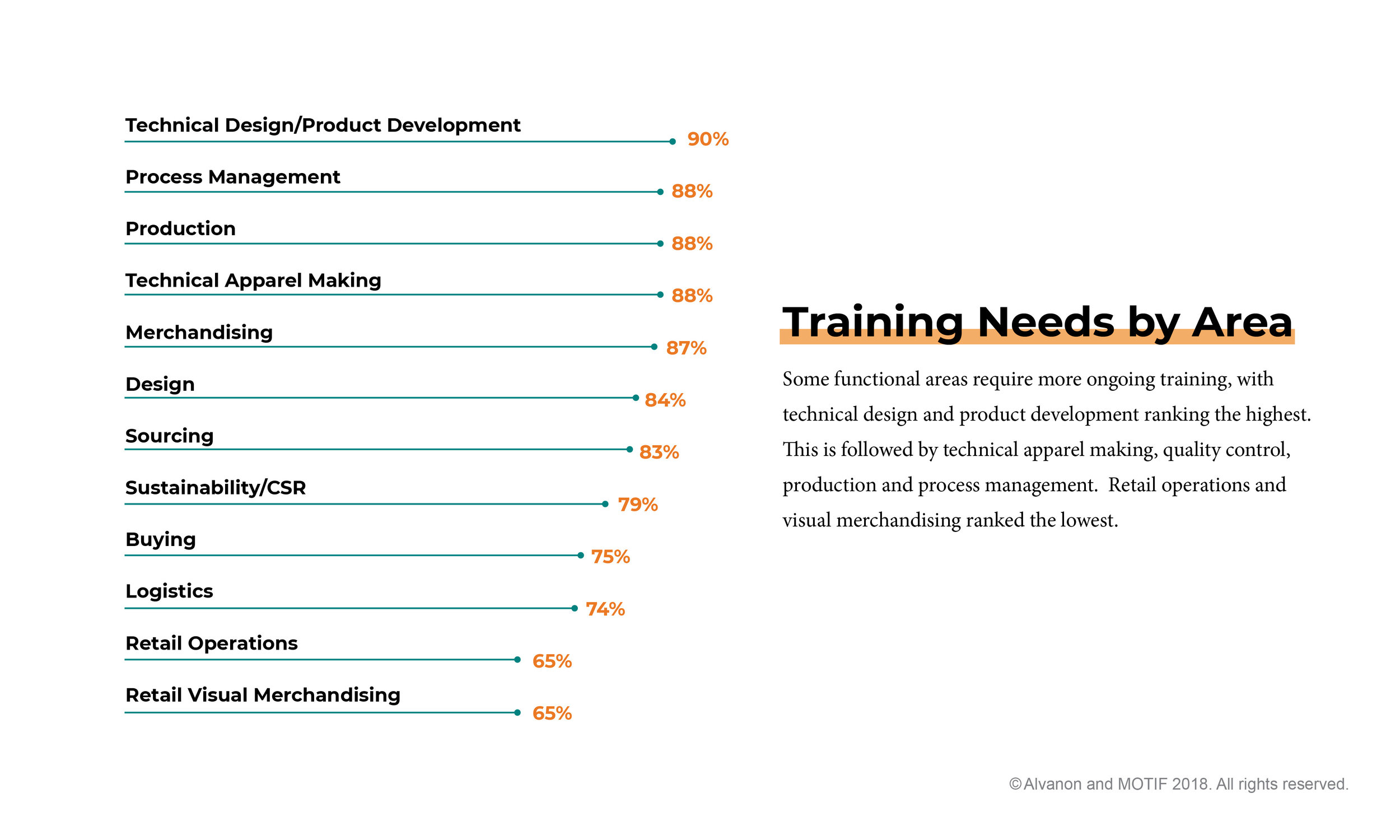 Total Respondents: 1221
Total Completed Surveys: 642
Country Representation: USA (22%), Colombia (16%), UK (5%), Canada (7%), HK (8%), India (8%), Rest of the World (34%)
Language Respondents: English (72%), Spanish (22%), Chinese (4%), French (2%)
Manager Level or Above: (64%) (CEO Level: 16%)
Age Breakdown: 45+Years (47%), 36-45 years (31%), 26-35 years (19%), 18-25 years (3%)
_
THE REPORT
Download a free copy via the link below, of 'The State of Skills in the Apparel Industry 2018', Alvanon's in-depth report on the skills required to propel the apparel industry forward in 2018, focusing on the themes, issues and opportunities impacting talent development, training and retention.
_
THE SUPPORTING ORGANISATIONS
American Apparel & Footwear Association (AAFA), www.aafaglobal.org
Americas Apparel Producers Network (AAPN), www.news.aapnetwork.net
Association of Suppliers to the British Clothing Industry (ASBCI), www.asbci.co.uk
Australian Fashion Council (AFC), www.ausfashioncouncil.com
California Fashion Association (CFA), www.calfashion.org
Canadian Apparel Federation, www.apparel.ca
Inexmoda (Colombia), www.inexmoda.org.co
International Apparel Federation (IAF), www.iafnet.com
The Hong Kong Research Institute of Textiles and Apparel (HKRITA), www.hkrita.com
The International Textile and Apparel Association (ITAA), www.itaaonline.org
Modint (Netherlands), www.modint.nl
The Textile Institute, www.textileinstitute.org
University of Oregon, Sports Product Management, https://business.uoregon.edu/spm
Fiona Abrahams, Director of Fashion Heaven Inc.
_
ABOUT ALVANON
Alvanon is a global innovations company shaping the future of fit. When Alvanon was founded in 2001 it was focused on solving the sizing and fit challenges inherent in the apparel industry. It has since evolved into a global company, shaping the future of fit through modern technology and an innovative data-driven approach. Today, Alvanon operates as advisor across 89 countries to many of the world's leading apparel organisations – helping them improve their fit and engage more intimately with the modern-day consumer.